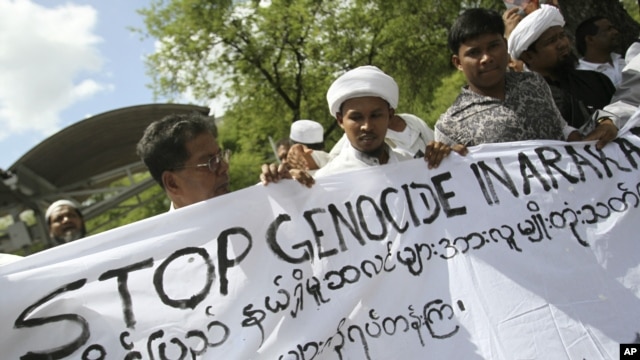 Rohingya protesters gather in front of a UN regional office in Bangkok on to call for an end to the ongoing violence in Burma's Rakhine State, June 11, 2012.
BANGKOK - Northwest Burma's Rakhine state remains tense after President Thein Sein dispatched troops to try to end religious and ethnic violence. The riots began after 10 ethnic-Rohingya Muslims were mobbed and murdered by ethnic Rakhines, in retaliation for the gang-rape of a Rakhine girl.
Local witnesses in villages in Burma's western Rakhine state said fires continued to burn Monday, even after President Thein Sein declared a state of emergency and sent in troops to bring the riots under control.
The clashes that began on June 8th are the most severe in a string of violent attacks between ethnic Rakhine Buddhists, the state's largest minority group, and ethnic Rohingya Muslims, who are denied citizenship in both Burma and Bangladesh.
"In the morning after leaving the army from the Maungdaw today morning, the police and the riot police they and the Rakhine people are trying to burn to loot and to kill the Rohingya people," said Tin Soe is the editor of Kaladan Press Network, a Rohingya news agency, which has been reporting on the riots. "Ethnic problem or religious problem, we don't know which one we can say."
Both minority groups in the region claim to be under attack, but the Rohingya have a history of being a target of racism. Although many Rohingya communities have lived in Burma for decades, the government refuses to grant them citizenship - a position that has broad support among other Burmese nationals.
Even democracy leader and former political prisoner Ko Ko Gyi recently said he believed "so-called Rohingya" not to be one of the recognized Burmese ethnic groups.
Nicholas Farelly, Burma analyst of Australia National University, says the Rohingya's statelessness between Burma and Bangladesh is partially to blame for the conflict's escalation.
"The Rohingya, they fit somewhat awkwardly in that borderland between the two different political systems, they have nowhere to call home and, as a result from time to time, there are these episodes of conflict," said Farelly. "We have seen one of those very recently and it has in this case taken the form of Buddhist and Muslim mobs of varying sizes coming to blows."
On Sunday, Thein Sein's national address referenced what he called Burma's "checkered" history of peaceful co-existence of among the country's diverse ethnic groups. He condemned racial and religiously-based violence, which he said could jeopardize the country's democratic reforms.
In Bangkok Monday, Maung Kyaw Nu of the Burmese Rohingya Association of Thailand asked the United Nations to intervene.
"Today, I am coming here to express, to hand over the letter to Mr. Ban Ki-moon, secretary general of the United Nations," said Maung Kyaw Nu. "I would like his intervention, U.N. intervention to save my people who are killed. Genocide is there. I'm coming here to ask his help, intervention as well as the global civil society's help."
The U.S. embassy issued a statement urging all parties to stop violent attacks and the government to hold a transparent investigation.
Sources:
XXXXXXXXXXXXXXXXXXXXXXXXXXXXXXXXXXXXXXXXXXXXXXXXXXXXXXXXXXXXXXXXXXXX
UPDATED
Troops, Riot Police Patrol NW Burma after Deadly Rioting
Posted Monday, June 11th, 2012 at 10:00 am

A tense calm settled over Burma's western Rakhine state Monday, as riot police intervened to curtail nearly a week of deadly violence between Muslims and Buddhists.

Ethnic Rohingya Muslims, speaking to VOA's Burmese service described scenes of devastation and fear in the border town of Maungdaw.

Right now (Monday), it is unsafe to go outside because yesterday a 12-year-old girl who went for routine shopping was shot to death by police. That's why we fear to go outside."

To the south, in the nearby city of Sittwe, Buddhists voiced fears that security forces deployed in the city were not sufficient to control more than 3,000 Muslims who have flooded the city to escape the violence.

"The situation could (grow) worse because the numbers of security personnel are pretty small. There's no security personnel in important areas. They (Muslims) came in a large group and locals (were forced) to escape. Sittwe now has an estimated 3,500 refugees."

Burmese President Thein Sein declared a state of emergency Sunday night, warning the nation in a televised address that the further could put the country's moves toward democracy in danger.

He invoked the emergency measure following days of violence in Rakhine state between Buddhists and Muslim Rohingyas, in which at least 17 people were killed and hundreds of buildings burned to the ground.

The president said that violent attacks fueled by "hatred and revenge based on religion and nationality" could spread to other parts of the country. He said if that happens, the country's stability and peace, democratization process and development, which are in transition right now, could be severely affected.

Tensions have been high in Rakhine since last Sunday, when a Buddhist mob attacked a bus and killed 10 Rohingya, mistakenly believing they were responsible for the recent gang-rape and murder of a Buddhist woman.

Burma, also known as Myanmar, does not consider the Rohingya to be Burmese citizens. According to the United Nations there are about 800,000 ethnic Rohingya in the country's western region.

Burma's government has recently begun implementing political reforms, earning approval from Western nations who had long called for change. State media have released an uncharacteristically large amount of information about last week's violent incidents.